July 12th, 2018 - Barrie, ON
Hino Motors Canada, Ltd. (HMC) congratulates John Esplen, Dealer Principal and Rick Howitt, General Manager at Tri Truck Centre located in Barrie, Ontario for earning the top-ranking GOLD position in the 2017 HINO Dealer of the Year award.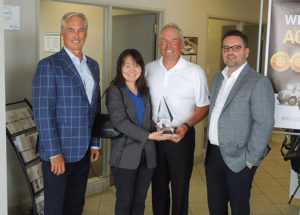 With over 30 years history as a Hino dealership, Tri Truck's team has earned this prestigious award four years in a row!  "Each year the criteria for this award become more difficult.  Each year, the team at Tri Truck rises to the challenge, working together to ensure top performance with excellent customer service," said Mark Lorentz, VP Sales for HMC during the award presentation at Tri Truck on July 12th.
The award is based on HMC's annual dealer evaluation, a comprehensive measure of the dealer's total business; Sales Management, Service Support, Parts Performance and Overall Facility.
From left to right: John Esplen, Dealer Principal (Tri Truck Centre), Ms. Yumiko Kawamura, President (HMC), Rick Howitt, General Manager (Tri Truck Centre), Mark Lorentz, Vice President, Sales (HMC)
About Hino: Hino Motors Canada, Ltd., a Toyota Group Company, produces and distributes light and medium duty commercial trucks in Canada and is headquartered in Mississauga, Ontario, with manufacturing operations in Woodstock, Ontario. Service is provided through its extensive coast-to-coast dealership network and is backed by its industry leading customer care protection program. For more information, please visit www.hinocanada.com.