May 11th, 2017 - London, ON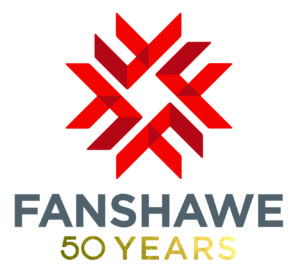 Media Release
Fanshawe was proud to host the Hino Motors Canada national dealer meeting and skills competition in our state-of-the-art Centre for Transportation Technology this week. At last evening's gala reception, held at the London Convention Centre, Yumiko Kawamura, President of Hino Motors Canada, surprised the College when she presented the keys to a Hino truck to Fanshawe President Peter Devlin.
"This generous donation from Hino will help us unlock the potential of our students and reinforces the exceptional learning experience provided for our students," says President Devlin. "We are grateful for Hino's donation and thank them for their ongoing support of Fanshawe students."
The truck will be housed at the College's state-of-the-art Centre for Applied Transportation Technologies at 1764 Oxford Street. It will be used by students studying in the Truck and Coach Technician programs. At a separate event on Wednesday, Hino also generously donated a service diagnostic tool (DSTI) and access to their online workshop manuals to the College.
"Fanshawe has had a strong relationship with Hino since they began operations at their Woodstock facility," says Catherine Finlayson, executive director of the Fanshawe College Foundation. "Hino's support has helped establish the College as a premier post-secondary destination for students seeking a career in the technology sector. We thank Hino for their investment in our students."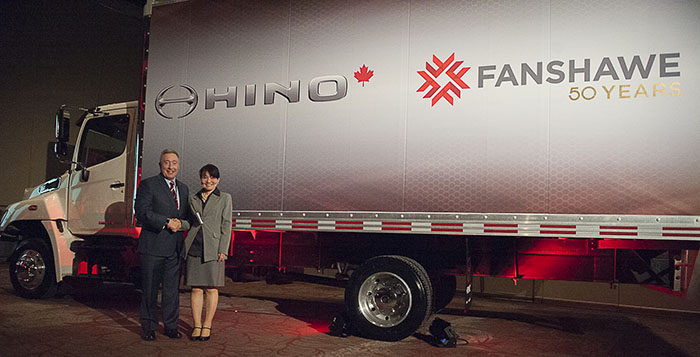 Fanshawe President Peter Devlin with Hino Motors Canada President, Yumiko Kawamura. Hino Motors donated the truck to Fanshawe on Wednesday evening.
(Photo by John Sing, Corporate photographer, Fanshawe College.)
For further information about Fanshawe College, please contact Corporate Communications.